Get Outdoors and Get Active with New Orleans Summer Festivals
Experience all that New Orleans has to offer by attending one of the many exciting summer festivals coming up! New Orleans is a historic city full of rich culture, heritage, music, and, of course, unbelievable food and drink. It comes as no surprise that people come from all over to experience the city and its diverse culture. Both Visitors to New Orleans and locals alike will love getting outside and getting active by participating in one or more of the fun upcoming summer festivals and events. If you are planning a trip to the Big Easy this summer, make sure you select a hotel that is close to everything you want to do; Hotel St. Marie! Hotel St. Marie is conveniently located in the New Orleans French Quarter, which is just minutes from New Orleans festivals, landmarks, destinations, restaurants, entertainment, bars, and more. Book your stay at Hotel St. Marie today and kick off your summer the right way!
Get Outside and Get in The Action with New Orleans Summer Festivals
Summer is a great time for engaging in new, exciting experiences with friends and family. Start your summer off right by attending one or more of the many great New Orleans festivals coming up soon! San Fermin en Nueva Orleans, or Running of the Bulls, will be taking place in the city from July 8th-10th. This wild spin on the classic festival from Spain involves runners that wear all white, and "bulls," that are actually the New Orleans Big Easy Rollergirls! The Rollergirls chase after the runners through the streets, much like bulls, and can whack runners with a wiffle ball bat! These festivities begin early, usually before 8:00 AM- with drinks, food, and Latin music to get your blood pumping!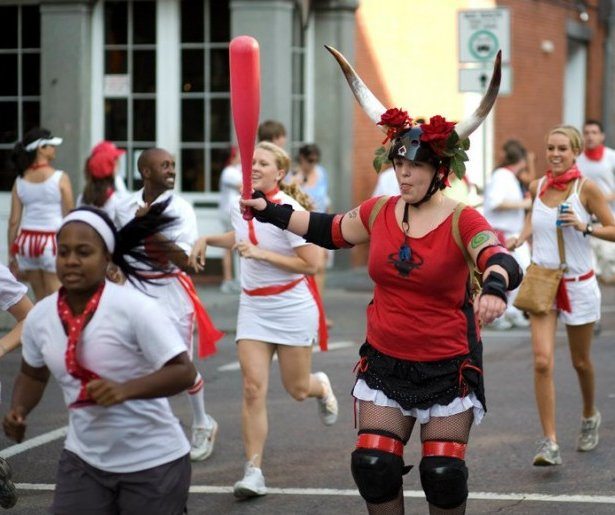 Get out there and get moving by partaking in the famous Red Dress run that will fill the city streets with vibrant shades of red on August 13th. This eccentric event is open to both men and women, and even doubles as a fundraiser for over 100 local charities! You can feel good about giving back to the community while enjoying unlimited beer, food and live music by The Topcats and The Mixed Nuts. You will see men and women in varying shades of red dresses of all styles, proudly parading through the French Quarter for the 22nd year while visitors come from near and far to cheer them on.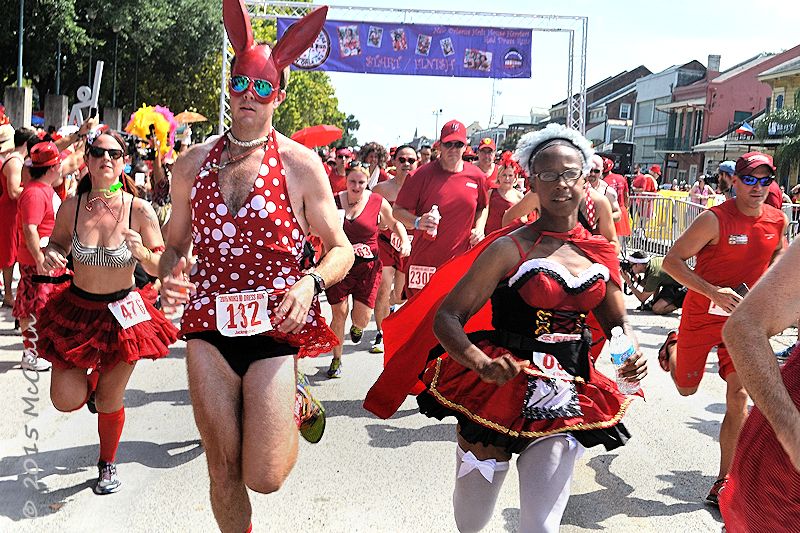 Experiencing New Orleans's Best
In addition to the Running of the Bulls and the Red Dress Run, there are many other great New Orleans festivals and events that will be taking place in the city this summer. Grab the kids and enjoy a fantastic firework show on the grand Mississippi River this Independence Day! This awesome show can be viewed from either side of the river, or even on the river if you choose to make a reservation on one of the riverboat paddle wheelers!  In addition to these great festivals and events, you will also have the chance to attend Dirty Linen Night, Southern Decadence, Satchmo SummerFest, We Live to Eat Restaurant Week, New Orleans Burlesque Festival, New Orleans Sushi Festival, NOLA Downtown Music and Arts Festival, and many others!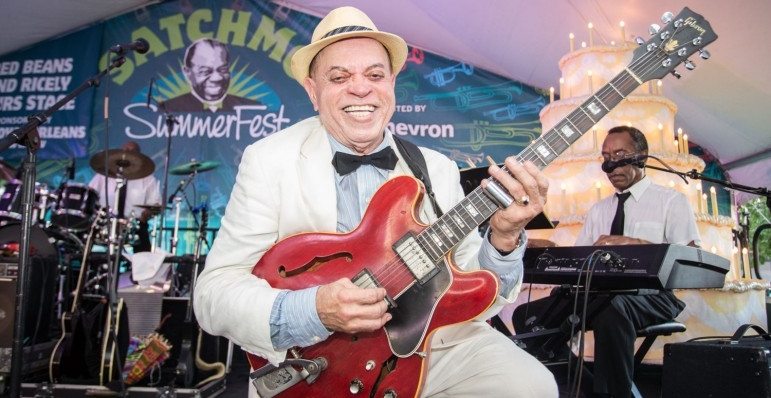 Stay At a Beautiful French Quarter Hotel!
Are you planning to travel to New Orleans this summer and looking for fun ways to get outdoors and active during your stay? Come enjoy all of the great outdoor festivals and events New Orleans has to offer, and stay at a magnificent hotel that is close to it all, Hotel St. Marie in the French Quarter! Also be sure to try some delicious authentic Cajun Cuisine at Vacherie Restaurant & Bar, a beautiful restaurant located right on the first floor of Hotel St. Marie. Book your stay today and get started on your exciting summer of fun!