Find Places to Stay in the French Quarter for Jazz Fest
New Orleans annual Jazz and Heritage Festival is about more than just incredible musical acts. Every year, visitors flock to Jazz Fest to take in the distinct culture, one-of-a-kind art, and amazing food that are all a part of this unique New Orleans tradition. When you're looking for historic places to stay in the French Quarter for Jazz Fest, Hotel St. Marie offers a truly authentic experience. With its gorgeous brick façade and French-Creole infused décor, Hotel St. Marie will immerse you in the storied history and charm of the city's oldest neighborhood Vieux Carre, better known as the French Quarter.

Get the Most Out of Your New Orleans Jazz Fest Vacation
When you're looking for places to stay in the French Quarter for Jazz Fest that offer even more than a prime location for access to the event, check out Hotel St. Marie on Toulouse Street. With its address in the heart of the French Quarter, it is the ideal spot to make sure you take it all of the sites and sounds that the city has to offer during your Jazz Fest adventure. A mere two blocks from the excitement and boisterous atmosphere of Bourbon Street, Hotel St. Marie is one of the best hotels for those looking to keep the party going all night after a day enjoying the awesome performers at Jazz Fest. We are also walking distance from Jackson Square and Café Du Monde and entertainment venues such as House of Blues and Harrah's Casino.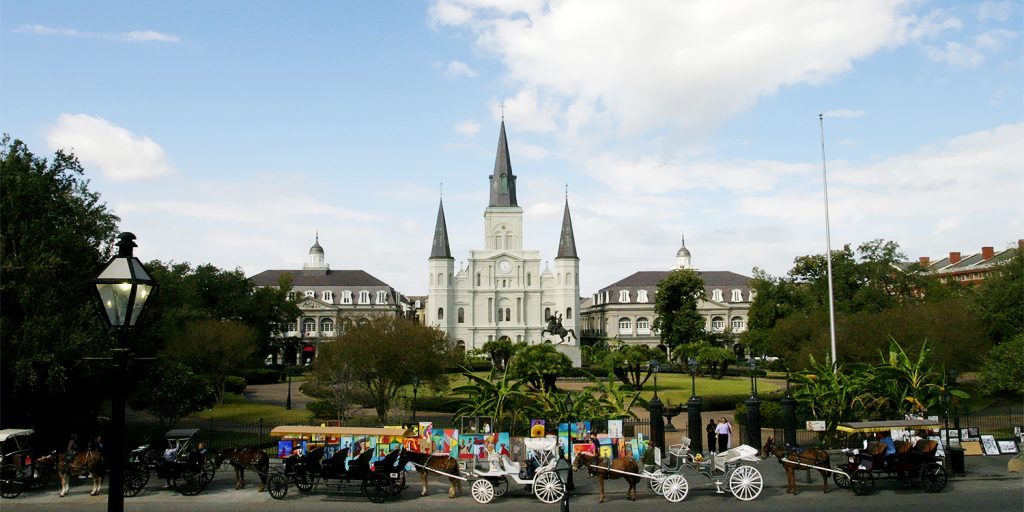 For guests who are interested in outside of the box places to stay in the French Quarter for Jazz Fest, Hotel St. Marie will exceed your expectations. With its spacious and elegant suites, serene balcony rooms that overlook our lush courtyard and streetside balcony guest rooms above the flurry of French Quarter activity, Hotel St. Marie has rooms to suit whatever you desire. Our beautiful period reproduction furnishings and classic artwork that adorns the walls will transport you back to a bygone era. Hotel St. Marie provides all the modern amenities of corporate hotels without the cold, dull atmosphere, including 24-hour room service, free Wi-Fi, valet parking, and a swimming pool.

Places to Stay in the French Quarter for Jazz Fest That Have It All
Hotel St. Marie offers top dining in-house options with its Vacherie restaurant and bar, which is conveniently located inside the hotel on the first-floor. The Vacherie menu features authentic Cajun cuisine inspired by its namesake, a small idyllic community nestled along the Mississippi River. When you are searching for a great value, you'll always be able to find great deals and low rates at Hotel St. Marie. We offer fantastic specials throughout the year, including seasonal rates, for weekday discounts, and group pricing. Hotel St. Marie also boasts two exquisite event rooms that can be booked for meetings, banquets, and receptions. Our group sales team can help you arrange catering, guest rooms and meeting accommodations. We can even help your group with activity planning such as restaurant reservations and tour itineraries to make the most of your French Quarter stay.